Tianjin University students pick silver in chemical design competition
On August 22, a team of "Zhumentianyi" composed of five students including Zhenyu Zhao, Bofeng Zhang, Xinyi Wang, Yongzhe Ruan, and Beiqian Tian from the Qiushi School and the School of Chemical Engineering and Technology of Tianjin University (Instructors: Xingang Li, Hong Li, Xin Gao, Hong Sui, Ning Chen), won three honors of the national special award, "Best Live presentation and defense Award " and "Silver Cup" in the 10th Donghua Technology - Shaanxi Drum Cup National College Students Chemical Engineering Design Competition in 2016" with outstanding performance.
"The National College Students Chemical Engineering Design Competition" is currently the most influential chemical engineering competition in China. The competition is hosted by the Chemical Industry and Engineering Society of China, Chemical Education Association of China, Teaching Guidance Committee of Chemical Engineering Specialty of Higher Education Ministry of Education, sponsored by Donghua Technology, Shaanxi Blower and other companies, and undertaken by Sichuan University. It aims to cultivate college students' innovative thinking and engineering skills in many ways, cultivate teamwork spirit, enhance college students' engineering design and practical ability, and practice the "Excellent Engineer Education Training Plan".
From August 20 to 21, 48 teams from Sichuan University, Tianjin University, Zhejiang University, East China University of Science and Technology, Dalian University of Technology and other national teams entered the national finals. In the national finals, under the leadership of Xingang Li, Hong Li and Xin Gao, the team from Tianjin University was highly praised by expert judges and other college students for their innovative work and the objectivity of live presentation. After two rounds of defense in the group stage and the finals, the work "100 kt/a propane to propylene oxide production project" designed by the "Zhumeng tianyi" team won the Silver Cup Award of the Chemical Design Competition in 2016 with the second place, only after Sichuan University with the national top prize.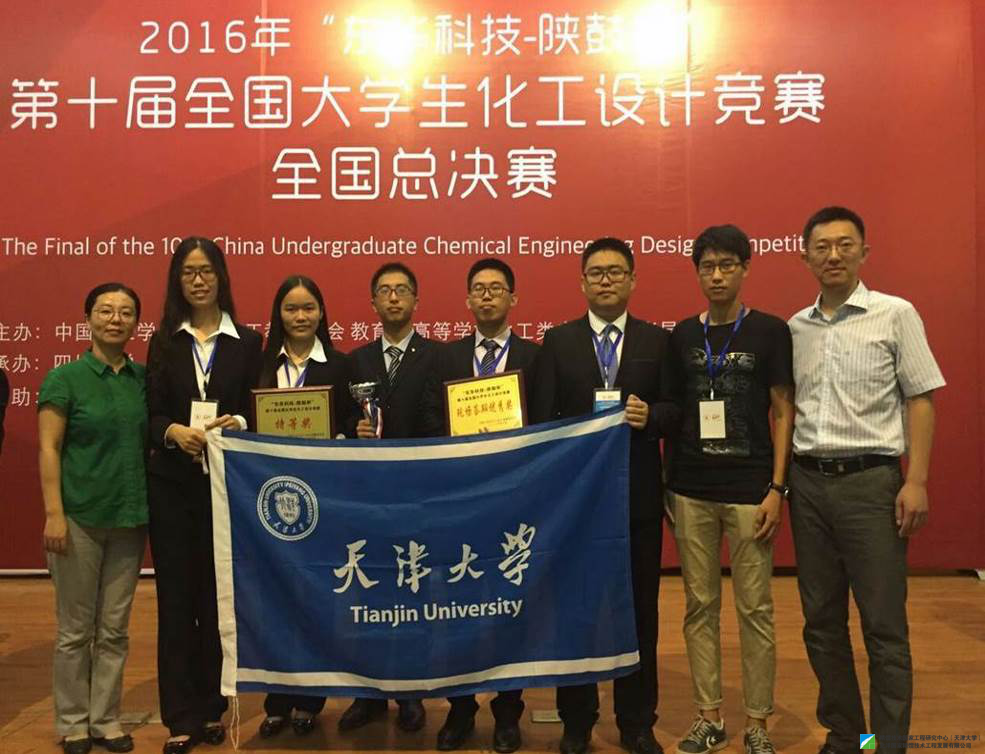 Tianjin University students won the silver medalin chemical design competition